Olá!
Hoje resolvi fazer um postal de Natal. Eu sei que ainda vem longe, mas há sempre imenso que fazer quando se aproxima esta quadra festiva, por isso decidi adiantar algumas coisas.
Para o postal de hoje usei cores pouco natalícias, em tons suaves de azul e bege. Os papéis que usei são de duas coleções já antigas e para fazer a coroa usei um cortante. Cortei-a três vezes e sobrepus tentando que a folhagem ficasse equilibrada. Depois usei alguns brilhantes em azul, amarelo e transparente. Por último estampei o sentimento.
Hi there!
Today I'm showing you my first Christmas card this year. I'm starting early so that I have time for everything I still have to do till Christmas.
For my card I've decided to use colours which are not traditionally Christmasy. I used beige and light blue and the patterned papers are from two old collections I had lingering in my Christmas stash. For the wreath I used a die which I cut three times and then glued slightly off one another. To give it some bling I used some gems. Finally I stamped the sentiment.
Inspirado em / Inspired by: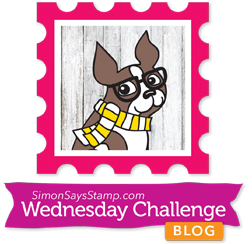 P.S. Este postal recebeu uma menção em